Cursed Onion Ring Tape
Talk

1
1,608pages on
this wiki
Cursed Onion Ring Tape
is a special episode to do with the episode that aired along with
 The Onion Ring
. Unlike the ring when you die in 7 days from a voice on the phone, you will get a phonecall from
Orange
announcing that the viewer is an onion ring in seven days. If you didn't send it to 5 people, you would become an onion ring!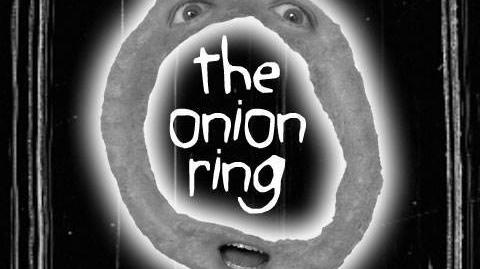 This is the video tape as seen in the episode. Bobjenz's dog ate the onion rings.
Transcript
Orange: I'm hungry! (Eating) Hey, it's see-food! (laughs)
Orange: Hey! Hey, Onion!
Orange: (Sings & choked up and coughs)
Orange: Hey, how am I supposed to climb this?
Orange (in well): (Laughing)
Differences from The Ring
An Onion ring is in place of the well entrance.
There's a shot of Knife.
The circular mirror shows Orange wanting food, it then pans to another mirror with an onion ring and it pans back to Orange eating it, he then makes a pun on the ring and the mirror falls down and crashes into pieces.
Orange talks to an Onion who is then shortly knifed and put back together, Orange then laughs at him.
Big Papi is seen barking.
Orange is lalaling by the oceanic cliffside and a fly then flies into his mouth causing him to cough.
A tree can be seen with several Oranges laughing.
Orange is at the bottom of the long ladder, asking how he's supposed to climb it.
An Onion Ring on the wall with a face appears and starts screaming.
There is a shot of the well with Orange laughing.