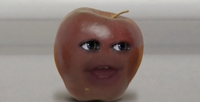 We could really use a little help around here.
This article is a stub. Please help Annoying Orange Wiki by expanding it.
Theresa Barket (also known as Wifeboe or Therboe) is Dane Boedigheimer's wife who first appeared in The Onion Ring and in a short on Daneboe's Channel called Screaming Eggs. She also made some appearances in other of Gagfilms' main works, often killing or traumatizing innocent food. According to Dane Boedigheimer, she was his fiancée (to be married). As of August 2012 they are already married (according to Boedigheimer's Facebook page). In a future episode, she might portray another character. She was turned into one of the Onion Rings in The Onion Ring.
External links
Ad blocker interference detected!
Wikia is a free-to-use site that makes money from advertising. We have a modified experience for viewers using ad blockers

Wikia is not accessible if you've made further modifications. Remove the custom ad blocker rule(s) and the page will load as expected.