Toad
Talk

0
1,608pages on
this wiki
Toad is an anthropomorphic mushroom, an enemy of Bowser, and a long protector of the Mushroom Kingdom. He is one of the many Toads that assist Princess Peach. He was captured along with Peach by Bowser. Orange later came along and annoyed the "living crap" out of Bowser until he lost it and left. After Orange did the same to Mario, Toad left with Peach after Bowser kicked him, Peach and Orange out of his castle. He also appeared in one of Boedigheimer's videos, My Roomate Mario: Super Mario Wee, having a speaking role by Dane Boedigheimer.
He may have gone back to Peach's castle like her.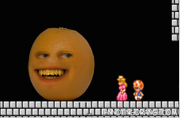 He is the first character in the series to not have any lines.
First mushroom in the series.