Hello, and welcome to Annoying Orange Wiki! Thanks for your edit to the Onion Rings page. I hope you like the place and decide to stay. There's a lot to do around here, so I just hope you can stay and make more improvements.
Recent changes is a great first stop, because you can see what pages other people have been editing, and where you can help.
Questions? You can ask at the Help desk or on the "discussion" page associated with each article, or post a message on my talk page!
Need more help? The Community Portal has an outline of the site and links to pages to help you learn how to edit.
The Manual of Style is a policy created by Annoying Orange Wiki's top-contributor Bryce you have to read. It explains our tolerated way of style in which to write, and is among one of our most important policies on the Annoying Orange Wiki.
Please remember to sign messages with four tlides (~~~~); this will automatically insert your signature and time, and this will also help us remember who you are. Please leave a message on my talk page if I can help with anything! -- Knife! (Talk) 15:15, July 7, 2011
Hey darkpear.
Edit
yo! happy wiki using!15:51, July 7, 2011 (UTC)Darkapple
hey darkpear
Edit
darkpear, you rock!
Darkapple
18:38, July 7, 2011 (UTC)[[marshmallow|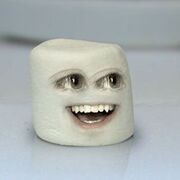 ]]
hey darkpear
Edit
Hey, I hope your geting on good.
Sockpuppetry
Edit
I have recieved notice this account is believed to be a suspected sockpuppet. Sockpuppetry is against Wikia's rule and is this is proved, the main account may be globally disabled. KNIFE! 21:10, August 12, 2011 (UTC)