As a courtesy of retirement, please DO NOT leave any messages here. Leave them here or here. Thank you. Spidey665 21:22, October 1, 2011 (UTC)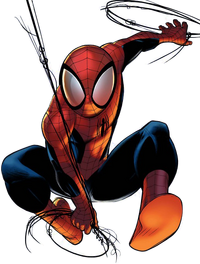 Spidey665 has retired across Wikia due to a recent global block and conflicts on Wikia.
You may email him to thank him for his work on Wikia. Spidey will never return again. His final words on Wikia were:
"I'm retired due to a big jerk called daNASCAT, who globally blocked Luigirules33 and I. Messages shall NEVER be left here anymore. I'm moving on to AnnoyingOrangepedia, Wikipedia, Wikimedia Foundation projects and Wikii. Contact me there, I am retiring from Wikia forever, and never coming back again. I am not going to fight on this battleground called Wikia with a bunch of losers like Charitwo and daNASCAT."
no im notDarkapple 13:47, October 10, 2011 (UTC)
Your not blocked
Edit
Hello Spidey665 Your not blocked anymore - AwesomeSponge
Yay! But your not coming back are you?
He did not tell people to get off of wikipedia.
Edit
Spidey665. Charitwo did not tell people to get off of wikipedia beacause i talked to him on his talk page and he said. I do not edit wikipedia anymore.
You Know
Edit
You Know. All VSTF arnt bad users on wikia, They just clean up spam.
Hi- its me!
Edit
i have once again given you chat moderatorship.Darkapple 12:13, November 3, 2011 (UTC)