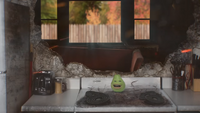 This article may require cleanup to meet Annoying Orange Wiki's quality standards.
Please discuss this issue on the talk page.

Wee Pony is a character who appeared in Happy Birthday, mentioned in Orange of July and another is shown in Theme Song Attack! wearing rollerskates. Wee Pony is also known as Wii Pony, as the original intention was a pony that could play a Wii.
Personality
Wee Pony enjoys nibbling on Marshmallow. When Marshmallow's head was on fire it spread to Wee Pony's tail end. He then heavily kicks Marshmallow across the kitchen, causing Marshmallow to land on Lime.
Trivia
In Happy Birthday!, the pony has a red ribbon, but in Theme Song Attack! it doesn't (the ribbon was originally on it because it was a birthday present).
In Happy Birthday!, the pony is smaller than Orange, however in Theme Song Attack!, it is clearly bigger than Orange. This occurs again in Epic Rap Battles of Kitchenry and Fry-day.
It is the first animal to be out of scale.
The character appears in stock footage created by Dane Boedigheimer.
It is the only animal to appear in multiple episodes.
It was revealed in Ask Orange 1 that Orange had to set him free,Jackie Hernandez Asked,What Happened To Your wii pony?Orange said "I had to let him go. He needed a more stable environment!".