Wee Pony
Talk

0
1,608pages on
this wiki
Wee Pony
Gender
unknown, but referred to as male
First Appearance
Happy Birthday!
Wee Pony is a character who appeared in Happy Birthday, mentioned in Orange of July and shown in Theme Song Attack! wearing rollerskates. Wee Pony is also known as Wii Pony, as the original intention was a pony that could play a Wii.
Personality
Wee Pony enjoys nibbling on Marshmallow. When Marshmallow's head was on fire it spread to Wee Pony's tail end. He then heavily kicks Marshmallow across the kitchen, causing Marshmallow to land on Lime.
Biography
Orange of July
Orange thought it's his birthday and wants a pony that can play Wii (and a Wii system). He then says "I want my Wii pony!"
Happy Birthday!
Pear says that Orange's present is something he has always wanted. In the episode, there was a flashback from Orange of July on the constant line "I want my Wii pony!" But when it is given to him, Pear thought he wanted a wee (small) pony.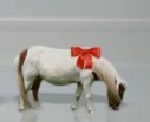 Theme Song Attack!
He makes a cameo appearance in Orange's theme song by rollerskating downhill on the street with Orange when the theme song lyrics were: "He's riding on a pony in rollerskates...".
Annoying Orange Through Time 3
He's seen near the Trojan after Orange said "Horse".
Ask Orange #1
Orange reveals that he had to let Wee Pony go because he needed a more "stable" environment.
Epic Rap Battles of Kitchenry
He makes a cameo appearance in the song when he's eating hay, with Orange and Marshmallow sitting on him when the song lyrics were: "Hay is for horses..."
Fry-day
He makes a cameo appearance in the song by rollerskating on a street with Orange, Pear and Passion Fruit landing on him after they fall off the eagle due to Orange's motorboating.
Annoying Orange vs. Mortal Kombat
After Orange defeats Shang Tsung at the end, he was wondering what he has won and he says he wants a Wii pony.
Leek of Their Own
He is mentioned by Orange at the beginning when he says that he is bored with no Wii Ponys or pinwheels or explosions.
Cheesy Salesman
He's mentioned by a few characters, as well as his "Wii Pony" name appearing on List.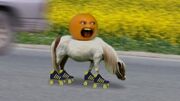 Trivia
In Happy Birthday!, the pony has a red ribbon, but in Theme Song Attack! it doesn't (the ribbon was originally on it because it was a birthday present).
In Happy Birthday!, the pony is smaller than Orange, however in Theme Song Attack!, it is clearly bigger than Orange. This occurs again in Epic Rap Battles of Kitchenry and Fry-day.
It is the first animal to be out of scale.
The character appears in stock footage created by Dane Boedigheimer.
He is the only animal to appear in multiple episodes