Yam
Talk

0
1,608pages on
this wiki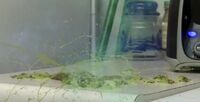 This article may require cleanup to meet Annoying Orange Wiki's quality standards.
Please discuss this issue on the talk page.
Yam
Gender
Male
Played by
Michael Gallager
Death
Knifed.
First Appearance
Mommy and Me
Yam was an irritable character who only appeared in the episode Mommy and Me. He was annoyed by Orange and Mama Orange and ended up being knifed.
Yam was played by Michael Gallager.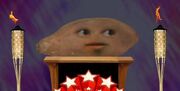 Biography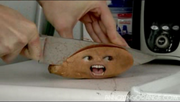 Orange annoys Yam when he was put into the counter by Daneboe. When Yam nicely asks Orange what is wrong with him, but Orange just tells him to ask his mom, and they both annoy Yam together, until Yam lost his temper, and eventually gets knifed.
He also made a cameo in Annoying Orange: 1 BILLION KILLS!, screaming a short time.
Quotes
Mommy and Me
"Potato? Nah, you got me confused with somebody else."
"Yam."
"Yam! I am a yam, and that's all that I yam" *
"Grr... Would you two be quiet?!" *
"Be quiet!" * "SHUT UP!!" *
"Oh my god! Shut up, shut up,shut up!!" *
"AAAAHHHH!!!!! *
"Not listening! Go away!" *
"AAAAAAAAHHHHHHHH!!!!!!!!!!!!!!!!!!!!!!! * " What?!!!!
Comedy Roast
"You had a lot of well wishers here today Orange."
"Yup. A whole bunch of people that wanna throw you down a well."
"Ha ha ha ha ha ha ha!"
1 BILLION KILLS!
(screams shortly during cameos and flashbacks)
Mommy And Me
(LAUGHS)
"WAAAAAAAAAAAAAAAAAAT!"
"Woah Who Care a Sweet Patato"
(BOTH LAUGHS)
"Hey,Hey,Yam!"
"WHAAT LISINING GO AWAY!"
"Hey,Hey,Yam!"
"WAAAAAAAAAAAAAAAAAT!"
"Hey Yam!"
"Hey Yam!"
"WAAAAAAAAAAAAAAAAAAAAAAAAAAAAT!"
"Hey Yamyamyamyamyamyamyam!"
"Yamyamyamyamyamyamyam!"
"WAAAAAAAAAAAAAAAAAAAAAAAAAAAAAAAAAAAAAAAT!"
"Yamyamyamyamyamyamyam!"
"Yamyamyamyamyamyamyam!"
"WAAAAAAAAAAAAAAAAAAAAAAT!"
"Knife!"
(SCREAMS TO DEATH)